Searching For Best Underconstruction Plugin For WordPress ?? Want to Create A Maintenance Page on your WordPress Blog? Check out the Best Selected WordPress Plugins (Free).
Top 5 Under Construction Plugin for WordPress
Before We Just Get Started, You Must Know the Difference Between Coming Soon Page & Maintenance Mode
Coming Soon Page Mode returns an HTTP status 200 and allows your site to be indexed by Google and other searching engines while under construction. You should always be using Coming Soon Page mode when your site is under construction.
Maintenance Mode returns an HTTP status code 503 and should be used when you are doing short-term maintenance on an existing site. This will let search engines know your site is undergoing maintenance and should return in 1 day when maintenance mode is finished.
Here Is Your List ☺️
Under Construction Page
This Plugin Comes With More Than 100+Super Cool Under Construction Pages, Coming Soon Pages (FREE). You Can Even Create Landing Page To Convert Your Visitors into Potential Customer with PRO Version!
PRO version offers more than 100 extra features and options including the drag&drop builder, 300,000+ searchable images, 100+ templates, affiliate&traffic tracking, advanced access control, MailChimp, Zapier & universal autoresponder integration, and priority USA based support.
Download Plugin
Features
Simple UI (Beginner Friendly)
1 Click Setup
Add Social Icons/Links (FREE)
100+ Free Templates
Under construction mode – off / on
Automatic End date & time – automatically disable construction mode on a set date
Google Analytics Tracking ID – enable tracking via Google Analytics
Theme – a new one is added to each update
Custom CSS – adjust any part of the page to fit your needs
Title – page title, for SEO
Description – page description, for SEO
Headline – main headline/title
Whitelisted User Roles – user roles who see the site, instead of maintenance page
50K+ Live Install
Rating – 4.5 Stars
Coming Soon Page & Maintenance Mode by SeedProd
This Plugin Comes with 300K+ Active Installs, Responsive & Easy To Install. Customization can be done using HTML & CSS
Download Plugin
Features
Works with any WordPress Theme
Responsive
Customize the Look and Feel
Easily add Custom CSS and HTML
Uses HTML5 & CSS3
Translation Ready, i18n Support
Multisite Support
BuddyPress Support
Uses WordPress Best Practices
Minimal Coming Soon & Maintenance Mode
The Minimal Coming Soon & Maintenance Mode plugin allows you to quickly & easily set up a Coming Soon or Launch Page for your website.
It's simple + flexible and works with any WordPress theme & plugin, plus you'll have full control over the frontend of the website and can modify almost every aspect of it per your preference. Easily connects with MailChimp so that you can collect emails from visitors.
Download Plugin
Features
Works with all WordPress themes and plugins
Completely customizable look and feel including background color, cover image, fonts etc
Option to preview the maintenance page before activation
W3 Total Cache and WP Super Cache Support
Easily add Custom CSS and HTML
Collect Emails with MailChimp – full API support
You can let search engines to view website normally while visitors see the "Coming Soon" page
Visible to the only non logged in users so you can build your site while visitors see the "Coming Soon" page.
Uses HTML5 & CSS3
Translation Ready, i18n Support
Powerful Options Panel
Get support from within the options panel – send a message directly to support agents
EZP Coming Soon Page
EZP Coming Soon Page looks great and tells visitors your site is coming soon – while you gather contact information. The plugin has been streamlined for use so you'll go from having nothing to a fully functioning coming soon page collecting emails within minutes.
Don't skimp on your important website launch. Get EZP Coming Soon Page today!
Download Plugin
Features
Professional look
Highly customizable
Choose either a 503 or 200 HTTP status when in Coming Soon mode
Selectively disable Coming Soon Page on certain URLs
Fully responsive
Export email addresses to MailChimp, AWeber, and other email providers.
Optional countdown timer
No HTML required
CSS customizable but not required
Use built-in backgrounds or your own to give Coming Soon Page a great look
WP Maintenance Mode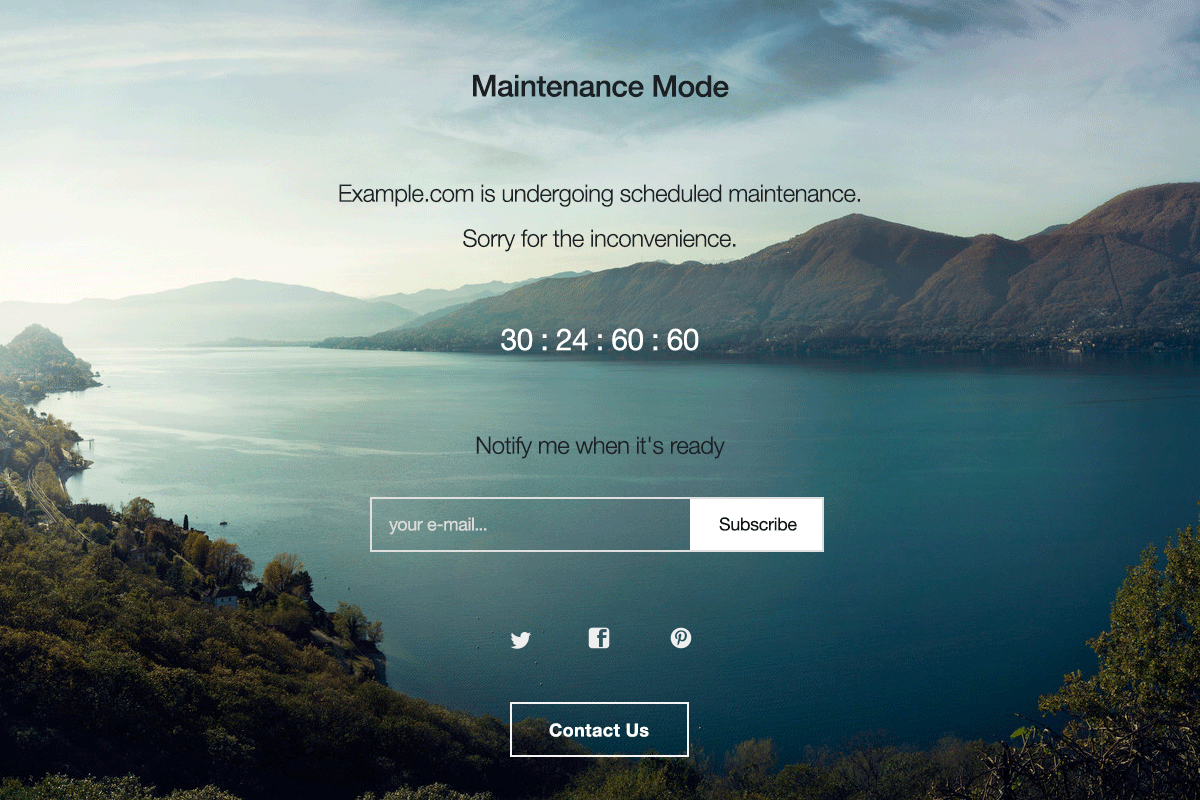 Add a maintenance page to your blog that lets visitors know your blog is down for maintenance, or add a coming soon page for a new website. User with admin rights gets full access to the blog including the front end.
Download Plugin
Features
Fully customizable (change colors, texts, and backgrounds)
Subscription form (export emails to .csv file)
Countdown timer (remaining time)
Contact form (receive emails from visitors)
Coming soon page
Landing page templates
WordPress multisite
Responsive design
Social media icons
Works with any WordPress theme
SEO options
Exclude URLs from maintenance
Get more stuff like this
Subscribe to our mailing list and get interesting stuff and updates to your email inbox.
Thank you for subscribing.
Something went wrong.